BUSINESSES FOR SALE BY CATEGORY

– RECREATION / TOURISM

PROFILE #: 6-5009-OW

CATEGORY: SERVICE – RECREATION

TYPE OF BUSINESS: RECREATIONAL VEHICLE RENTAL BUSINESS

LOCATION: CENTRAL VALLEY OF CALIFORNIA

PURCHASE PRICE: $195,000

DOWN PAYMENT: $195,000 

ANNUAL GROSS SALES: $207,000

ADJUSTED ANNUAL PROFIT: $54,000 +

COMMENTS: THIS IS YOUR OPPORTUNITY TO ACQUIRE A UNIQUE, AND VERY DESIRABLE "LIFESTYLE BUSINESS" THAT IS LOCATED JUST SOUTH OF THE SOUTH ENTRANCE TO YOSEMITE NATIONAL PARK. YOSEMITE ATTRACTS OVER 5 MILLION VISITORS, EACH YEAR!
THIS RV RENTAL BUSINESS WAS ESTABLISHED BY THE CURRENT OWNERS IN 2013. THEY RENT FULLY SELF-CONTAINED CLASS C MOTORHOMES THAT ARE EASY TO DRIVE AND CONTAIN EVERYTHING NEEDED FOR A COMFORTABLE EXPERIENCE! ALL LINENS, BEDDING, TOWELS, KITCHEN AND CAMPING EQUIPMENT IS INCLUDED IN THE RENTAL. THEIR CUSTOMERS LOVE THIS CONVENIENCE. THEY HAVE BUILT A LOYAL CUSTOMER BASE OF FAMILIES WHO APPRECIATE THEIR ALL-INCLUSIVE SERVICE.
THEY HAVE A HIGH PERCENTAGE OF RETURN CUSTOMERS, AND HAVE AN EXCELLENT REPUTATION ON YELP AND OTHER REVIEW SITES!
THE BUSINESS CURRENTLY HAS 4 OF THEIR OWN RVs FOR RENT, AND HAVE 6 ADDITIONAL RVs THAT ARE ON CONSIGNMENT WITH THEM, ON A RENTAL REVENUE SHARE BASIS.
THIS BUSINESS OPERATES OUT OF A LEASED BUILDING WITH A LARGE PAVED PARKING LOT WITH EXCELLENT VISIBILITY RIGHT ON HIGHWAY 41. THIS LOCATION NOT ONLY PROVIDES GREAT EXPOSURE FOR THEIR BUSINESS TO EVERYONE PASSING BY ON THEIR WAY TO YOSEMITE, BUT ALSO ALLOWS THEIR CUSTOMERS EASY ACCESS FOR PICKING UP AND DROPPING OFF THEIR RENTAL RV. THEIR NEAREST COMPETITION IS 40 MILES SOUTH OF THEIR LOCATION, IN FRESNO COUNTY.
THERE ARE LIVING ACOMMODATIONS IN THE BUILDING AND A "FULL HOOK UP," OUTSIDE THE BUILDING THAT WOULD BE IDEAL FOR SOMEONE THAT WANTED TO LIVE IN THEIR RV!
THE IDEAL PURCHASER FOR THIS OUTSTANDING BUSINESS WOULD BE A COUPLE OR FAMILY THAT WOULD LOVE TO LIVE AND OWN A BUSINESS IN ONE OF THE MOST BEAUTIFUL LOCATIONS IN THE WORLD! THE NEW OWNER WILL NEED TO HAVE BASIC MAINTENANCE SKILLS TO CLEAN AND TAKE CARE OF ANY MINOR REPAIRS ON THE RVS, BETWEEN RENTALS. MAINTENANCE AND REPAIR ISSUES ARE MINIMAL DUE TO THEIR PROXIMITY TO YOSEMITE, SINCE THE RENTAL RVS ARE NOT DRIVEN GREAT DISTANCES.
FOR FULL INFORMATION ON THIS TRULY OUTSTANDING OPPORTUNITY, THAT IS PRICED SIGNIFICANTLY BELOW FAIR MARKET VALUE, PLEASE GIVE ME A CALL TODAY AT: 559-721-6999!
PROFILE #: 5-5106-OW
CATEGORY: RECREATION
TYPE OF BUSINESS: SURF SCHOOL
LOCATION: LOS ANGELES COUNTY
PURCHASE PRICE: $99,000 PRICE JUST REDUCED FOR AN IMMEDIATE SALE!
DOWN PAYMENT: $79,000 *
ANNUAL GROSS SALES: $124,000
ADJUSTED ANNUAL PROFIT: $80,000
COMMENTS: SURFING HAS ALWAYS BEEN BIG IN SOUTHERN CALIFORNIA AND, IN RECENT YEARS, THERE HAS BEEN A SIGNIFICANT RESURGENCE IN INTEREST IN THIS BEACH SPORT. THIS BUSINESS GIVES YOU THE OPPORTUNITY BE PART OF THIS GROWING INDUSTRY.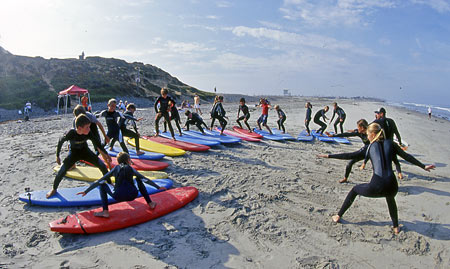 THIS WELL ESTABLISHED AND VERY POPULAR BUSINESS OFFERS BOTH INDIVIDUAL AND GROUP SURF LESSONS AT SOUTHERN CALIFORNIA BEACHES FROM MALIBU AND SANTA MONICA TO SOUTH BAY BEACHES LIKE MANHATTAN BEACH AND REDONDO BEACH. THEY ALSO OFFER FULL DAY SURF CAMPS IN SANTA MONICA.
THE CURRENT OWNER OPERATES THIS BUSINESS REMOTELY FROM HER HOME IN FLORIDA. A HANDS ON OWNER / OPERATOR COULD INCREASE REVENUES SIGNIFICANTLY!
OVER $35,000 WAS PAID IN CONTRACT LABOR IN 2015. IF A HANDS ON OWNER / OPERATOR WERE TO CONDUCT SOME OF THE SURF LESSONS, THE ADJUSTED ANNUAL PROFIT COULD INCREASE SIGNIFICANTLY!
ALL EQUIPMENT AND SURF INSTRUCTORS ARE IN PLACE FOR A NEW OWNER THAT WOULD LIKE TO CONTINUE TO OPERATE THE BUSINESS ON A FULL TIME OR SEMI-ABSENTEE BASIS.
ABSOLUTELY NO SPECIFIC INDUSTRY IS NECESSARY AS THE CURRENT OWNER WILL PROVIDE FULL OPERATIONAL TRAINING AND THE SURF INSTRUCTORS ARE IN PLACE FOR THE 2016 / 2017 SEASON.
*THE SELLER IS SO CONFIDENT IN THE CONTINUED SUCCESS OF THIS SCHOOL, SHE WILL FINANCE UP TO $20,000 FOR A QUALIFIED BUYER!
FOR FULL INFORMATION ON THIS UNIQUE OPPORTUNITY, CONTACT ORVILLE WRIGHT AT: 949-769-9099.
PROFILE #: 5-3001-OW
CATEGORY: RECREATION
TYPE OF BUSINESS: BOAT SALES AND SERVICE
FULL PRICE: $225,000
DOWN PAYMENT: $225,000
ANNUAL GROSS SALES: $1,258,603
ADJUSTED ANNUAL PROFIT: CALL FOR DETAILS
COMMENTS: SOLD!