BUSINESSES FOR SALE BY REGION -

LOS ANGELES COUNTY
PROFILE #: 5-5106-OW
CATEGORY: RECREATION
TYPE OF BUSINESS: SURF SCHOOL
LOCATION: LOS ANGELES COUNTY
PURCHASE PRICE: $99,000 PRICE JUST REDUCED FOR AN IMMEDIATE SALE!
DOWN PAYMENT: $79,000 *
ANNUAL GROSS SALES: $116,000
ADJUSTED ANNUAL PROFIT: $75,000
COMMENTS: SURFING HAS ALWAYS BEEN BIG IN SOUTHERN CALIFORNIA AND, IN RECENT YEARS, THERE HAS BEEN A SIGNIFICANT RESURGENCE IN INTEREST IN THIS BEACH SPORT. THIS BUSINESS GIVES YOU THE OPPORTUNITY BE PART OF THIS GROWING INDUSTRY.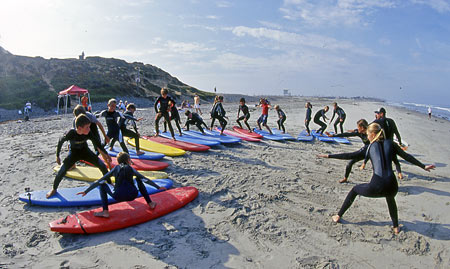 THIS WELL ESTABLISHED AND VERY POPULAR BUSINESS OFFERS BOTH INDIVIDUAL AND GROUP SURF LESSONS AT SOUTHERN CALIFORNIA BEACHES FROM MALIBU AND SANTA MONICA TO SOUTH BAY BEACHES LIKE MANHATTAN BEACH AND REDONDO BEACH. THEY ALSO OFFER FULL DAY SURF CAMPS IN SANTA MONICA.
THE CURRENT OWNER OPERATES THIS BUSINESS REMOTELY FROM HER HOME IN FLORIDA. A HANDS ON OWNER / OPERATOR COULD INCREASE REVENUES SIGNIFICANTLY!
OVER $33,000 WAS PAID IN CONTRACT LABOR IN THE 2014 / 2015 SEASON. IF A HANDS ON OWNER / OPERATOR WERE TO CONDUCT SOME OF THE SURF LESSONS, THE ADJUSTED ANNUAL PROFIT COULD INCREASE SIGNIFICANTLY!
ALL EQUIPMENT AND SURF INSTRUCTORS ARE IN PLACE FOR A NEW OWNER THAT WOULD LIKE TO CONTINUE TO OPERATE THE BUSINESS ON A FULL TIME OR SEMI-ABSENTEE BASIS.
ABSOLUTELY NO SPECIFIC INDUSTRY IS NECESSARY AS THE CURRENT OWNER WILL PROVIDE FULL OPERATIONAL TRAINING AND THE SURF INSTRUCTORS ARE IN PLACE FOR THE 2015 / 2016 SEASON.
*THE SELLER IS SO CONFIDENT IN THE CONTINUED SUCCESS OF THIS SCHOOL, SHE WILL FINANCE UP TO $20,000 FOR A QUALIFIED BUYER!
FOR FULL INFORMATION ON THIS UNIQUE OPPORTUNITY, CONTACT ORVILLE WRIGHT AT: 949-769-9099.
PROFILE #: 5-5000-CA
CATEGORY: GENERAL SERVICE
TYPE OF BUSINESS: BUSINESS BROKERAGE
LOCATION: OPPORTUNITIES AVAILABLE THROUGHOUT CALIFORNIA
FULL PRICE: $20,000
DOWN PAYMENT: $10,000 *
ANNUAL GROSS SALES: CALL
ADJUSTED ANNUAL PROFIT: CALL
COMMENTS: BUSINESS BROKERAGE IS A FAST GROWING INDUSTRY. WITH THE AGING POPULATION OF SMALL TO MID SIZE BUSINESS OWNERS, THERE ARE VAST OPPORTUNITIES FOR FULLY TRAINED, PROFESSIONAL BUSINESS BROKERS!
ACCORDING TO THE EXIT PLANNING INSTITUTE, DURING THE NEXT TEN YEARS, NORTH AMERICA WILL EXPERIENCE THE LARGEST TRANSFER OF PRIVATELY HELD BUSINESSES IN HISTORY. IN THIS COMING "TIDAL WAVE" OF BUSINESS SALES, THOSE WHO POSITION THEMSELVES CORRECTLY WILL FIND THAT THEY WILL PROSPER DURING THESE COMING YEARS OF ECONOMIC OPPORTUNITY.
PROFESSIONAL BUSINESS BROKERAGE IS THE ULTIMATE SALES CAREER!
HERE ARE THE FACTS:
• 76 MILLION BABY BOOMERS ARE NEARING RETIREMENT
• 12 MILLION PRIVATE BUSINESSES ARE OWNED BY BABY BOOMERS
• MORE THAN 8 MILLION BUSINESSES WILL SELL IN THE NEXT 10 YEARS
• $11 TRILLION WORTH OF ASSETS WILL CHANGE HANDS IN THE NEXT 10 YEARS
A CAREER IN BUSINESS BROKERAGE ALLOWS YOU TO BE COMPLETELY INDEPENDENT, MAKE YOUR OWN HOURS, EARN UNLIMITED INCOME, AND HAVE FUN BUILDING A CAREER AROUND A VALUABLE SERVICE THAT IS IN DESPERATE DEMAND!
WHAT A BUSINESS BROKER DOES:
A BUSINESS BROKER IS A PERSON OR FIRM THAT EVALUATES EXISTING BUSINESSES, OBTAINS A LISTING FOR THE BUSINESS AND ACTS AS AN INTERMEDIARY BETWEEN SELLERS AND BUYERS OF SMALL BUSINESSES.
HOW BUSINESS BROKERS EARN MONEY:
THE ENTREPRENEURIAL STUDIES DEPARTMENT OF BABSON COLLEGE, BABSON PARK, MASSACHUSETTS CONDUCTED A NATIONAL SURVEY OF BUSINESS BROKERS. THE AVERAGE ANNUAL GROSS COMMISSIONS WERE $253,000.00. EARNINGS WERE PRODUCED FROM AN AVERAGE OF FIVE SALES.
THE IDEAL BUSINESS BROKER CANDIDATES:
THERE ARE APPROXIMATELY 3,500 BUSINESS BROKERS IN ALL OF NORTH AMERICA . . . CLEARLY NOT ENOUGH TO HANDLE THE DEMAND!
• THE IDEAL BUSINESS BROKER CANDIDATE IS A MAN OR WOMAN WITH A STRONG BUSINESS AND SALES BACKGROUND THAT CAN WORK INDEPENDENTLY AND IS INTERESTED IN A REWARDING CAREER IN A BUSINESS-TO-BUSINESS ENVIRONMENT. A CALIFORNIA DRE BROKERS LICENSE IS REQUIRED.
• ANOTHER IDEAL BUSINESS BROKER CANDIDATE IS A CURRENT PROFESSIONAL RESIDENTIAL REAL ESTATE BROKER THAT WOULD LIKE TO TAKE HIS/HER CAREER TO A HIGHER LEVEL.
THIS UNIQUE OPPORTUNITY CONSISTS OF ONE-ON-ONE TRAINING FROM A CERTIFIED BUSINESS BROKER WITH OVER 25 YEARS OF SUCCESSFUL BUSINESS BROKERAGE EXPERIENCE, ONGOING SUPPORT AND ACCESS TO SOME OF THE HIGHEST RANKED BUSINESS OPPORTUNITY WEB SITES IN CALIFORNIA.
TO DETERMINE IF YOU HAVE THE BACKGROUND REQUIREMENTS TO BECOME A PROFESSIONAL BUSINESS BROKER, CLICK HERE
* INTEREST FREE, SHORT TERM PARTIAL FINANCING IS AVAILABLE FOR QUALIFIED CANDIDATES!
FOR FULL INFORMATION, CONTACT ORVILLE WRIGHT 949-769-9099.