BUSINESSES FOR SALE BY CATEGORY -

RECREATION / TOURISM
PROFILE #: 5-5106-OW
CATEGORY: RECREATION
TYPE OF BUSINESS: SURF SCHOOL
LOCATION: LOS ANGELES COUNTY
PURCHASE PRICE: $99,000 PRICE JUST REDUCED FOR AN IMMEDIATE SALE!
DOWN PAYMENT: $79,000 *
ANNUAL GROSS SALES: $124,000
ADJUSTED ANNUAL PROFIT: $80,000
COMMENTS: SURFING HAS ALWAYS BEEN BIG IN SOUTHERN CALIFORNIA AND, IN RECENT YEARS, THERE HAS BEEN A SIGNIFICANT RESURGENCE IN INTEREST IN THIS BEACH SPORT. THIS BUSINESS GIVES YOU THE OPPORTUNITY BE PART OF THIS GROWING INDUSTRY.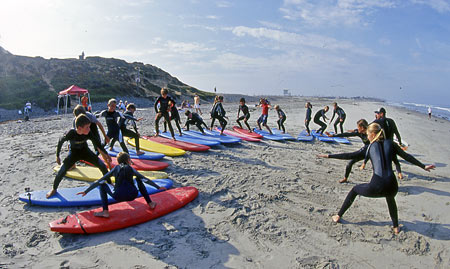 THIS WELL ESTABLISHED AND VERY POPULAR BUSINESS OFFERS BOTH INDIVIDUAL AND GROUP SURF LESSONS AT SOUTHERN CALIFORNIA BEACHES FROM MALIBU AND SANTA MONICA TO SOUTH BAY BEACHES LIKE MANHATTAN BEACH AND REDONDO BEACH. THEY ALSO OFFER FULL DAY SURF CAMPS IN SANTA MONICA.
THE CURRENT OWNER OPERATES THIS BUSINESS REMOTELY FROM HER HOME IN FLORIDA. A HANDS ON OWNER / OPERATOR COULD INCREASE REVENUES SIGNIFICANTLY!
OVER $35,000 WAS PAID IN CONTRACT LABOR IN 2015. IF A HANDS ON OWNER / OPERATOR WERE TO CONDUCT SOME OF THE SURF LESSONS, THE ADJUSTED ANNUAL PROFIT COULD INCREASE SIGNIFICANTLY!
ALL EQUIPMENT AND SURF INSTRUCTORS ARE IN PLACE FOR A NEW OWNER THAT WOULD LIKE TO CONTINUE TO OPERATE THE BUSINESS ON A FULL TIME OR SEMI-ABSENTEE BASIS.
ABSOLUTELY NO SPECIFIC INDUSTRY IS NECESSARY AS THE CURRENT OWNER WILL PROVIDE FULL OPERATIONAL TRAINING AND THE SURF INSTRUCTORS ARE IN PLACE FOR THE 2016 / 2017 SEASON.
*THE SELLER IS SO CONFIDENT IN THE CONTINUED SUCCESS OF THIS SCHOOL, SHE WILL FINANCE UP TO $20,000 FOR A QUALIFIED BUYER!
FOR FULL INFORMATION ON THIS UNIQUE OPPORTUNITY, CONTACT ORVILLE WRIGHT AT: 949-769-9099.
PROFILE #: 5-3001-OW
CATEGORY: RECREATION
TYPE OF BUSINESS: BOAT SALES AND SERVICE
FULL PRICE: $225,000
DOWN PAYMENT: $225,000
ANNUAL GROSS SALES: $1,258,603
ADJUSTED ANNUAL PROFIT: CALL FOR DETAILS
COMMENTS: SOLD!